January 6, 2021 10:40 AM
Former Jr. Ducks Bring Home Gold at World Junior Championships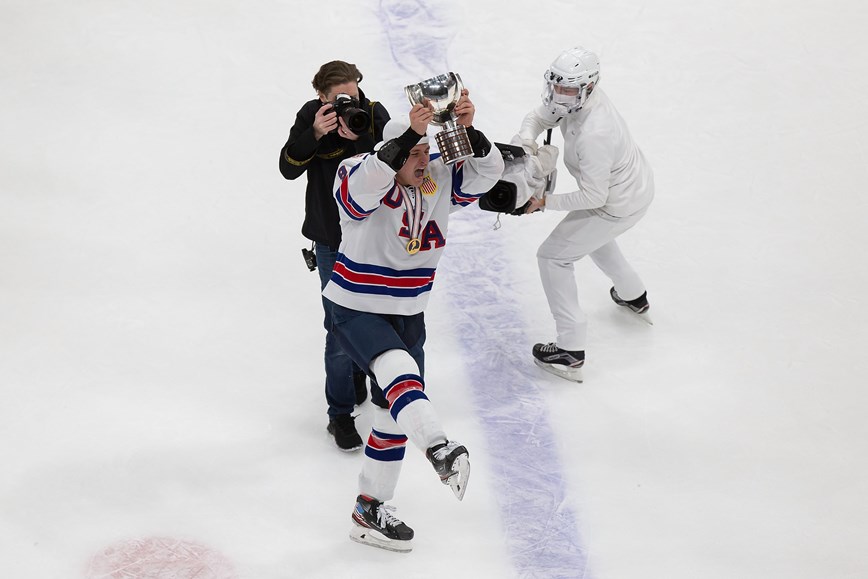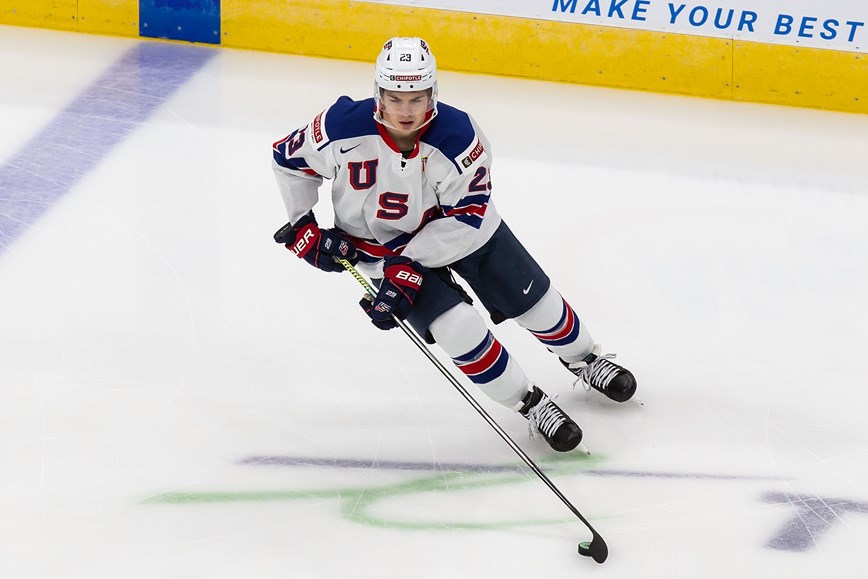 Cam York & Ryan Johnson Bring Home Gold at World Junior Championships
Story by Chris Bayee
It had been almost six full years since Cam York and Ryan Johnson had played together, but the longtime Jr. Ducks teammates made this reunion count.
The two defensemen helped lead Team USA to a 2-0 victory in the gold-medal game of the 2021 World Junior Championships at Edmonton, Alberta, on Jan. 5.
The gold medal - the United States' fifth, all since 2004 - came on the night York, the U.S. squad's captain, celebrated his 20th birthday.
"What a great experience for Cam and Ryan to represent the U.S. and win a gold medal," said club president Art Trottier. "These young men epitomize everything you want to see in young men and hockey players.
"You couldn't ask for better representatives of the club."
Team USA bounced back from a 5-3 preliminary round loss to Russia by winning its final six games by a cumulative 33-6 margin. A day later, the magnitude of winning the gold against favored Canada on its home soil was still soaking in.
"I'm not sure it's settled in completely," said Johnson, who also won two USA Hockey national championships with Santa Margarita Catholic High School and a Clark Cup with Sioux Falls of the United States Hockey League. "Winning at Sioux Falls was special because we were with each other all year.
"As far as my hockey experiences, this has to be right there at the top because of the amount of hype with this tournament."
The Jr. Ducks alums took different paths to get to this point after they parted ways in 2015.
After two years in Minnesota, York played two more seasons for the U.S. National Team Development Program before heading to the University of Michigan. He has won multiple medals – including gold – for Team USA at the U17 and U18 levels.
Johnson remained with the Jr. Ducks through his U16 seasons before playing one season in the USHL and heading the University of Minnesota. He previously won gold medals while representing Team USA at the 2018 World Junior A Challenge and the 2017 Five Nations Cup.
Winning the World Junior gold, which the U.S. last did in 2017, with a longtime friend was extra special.
"It was really cool," Johnson said. "After the game I gave him a hug. We both were excited to win this together because we grew up playing together, went our separate ways and then had this opportunity."
The duo was part of a talented Jr. Ducks 2001 birth year group coached by Ryan's dad Craig, who is the club's director of coaches, and Scott Niedermayer. That birth year has had eight players make NCAA Division I commitments already.
In 2019, York became the highest-drafted California-born and trained player in an NHL Entry Draft when the Philadelphia Flyers selected him 14th overall. The Buffalo Sabres then picked Johnson 31st overall, giving the Jr. Ducks their first two NHL first-round picks.
From there, the pair began their college careers at rival Big Ten schools. York was a finalist for the conference's freshman of the year award after amassing 16 points in 30 games. He finished fourth on the Wolverines in scoring, first among freshmen. He blocked 54 shots and was plus-9. Johnson had eight assists and played in all 37 games for the Gophers as a freshman. 
Both were off to strong starts this season. York had five points in eight games for ninth-ranked Michigan, while Johnson had four assists in six games for No. 1 Minnesota. 
At Edmonton, York led Team USA's defensemen in scoring with six points (five assists) in seven games and was plus-4. This was his second year in a row on the U.S. World Junior team, and his experience was a huge benefit to the squad.
"What a great honor for him to wear the C," Craig Johnson said. "He's always been an outstanding person from a great family. He did a great job representing himself and his country."
Ryan Johnson was in the mix for last season's WJC team but was among the final cuts. That was one of his motivators during an extended offseason due to the Covid-19 pandemic. He and his father spent plenty of the time during the lockdown working out in the family's garage.
"I watched him every day – he never cheated on a set, always did extra work whether it was lifting, running sprints or shooting pucks," Craig Johnson said. "I didn't just see him win a gold medal, I saw how hard he worked, his dedication. And it wasn't just four weeks or eight weeks, this was every day from March until August."
Craig Johnson, who played for Team USA in the 1991 World Junior Championships, knows all too well that nothing can be taken for granted in the tournament.
"The field was strong this year, and the tournament took place under unusual circumstances," he said. "The U.S. played great, and they played better as the tournament went along. Even in that gold-medal game, there were moments when they controlled the game and others when Canada pushed back. It was an intense game.
"I'm proud of how Cam and Ryan played. They had a lot of responsibility, and the entire U.S. defense was very good.
"Playing for gold for your country in that tournament is a once-in-a-lifetime opportunity, and they made the most of it."